The area is reserved for private use! Unlimited time for barbecue / Hokkaido Jingiskan
Barbecue Jingiskan in an environment full of nature, about 20 minutes from Lake Toya
Each of the three barbecue areas in the farm is reserved for one group daily for an unlimited time, so you can enjoy your time without worrying about other guests.
There are a pavilion and tarps to shelter you from light rain.
---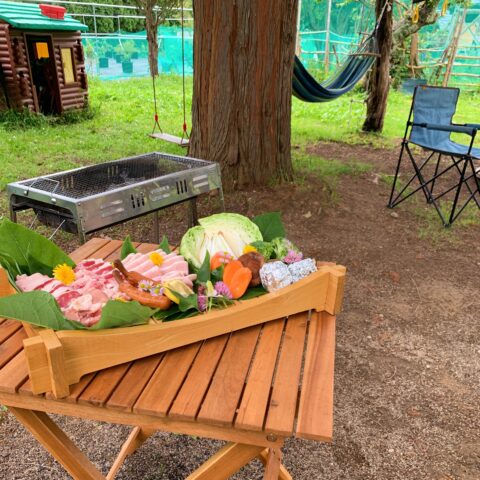 ---
We can prepare food, clean up afterwards, and, of course, we can start fire on the charcoal if requested, so feel free to bring small children, outdoor beginners, the elderly, or groups with fixed schedules.
Free for preschool children
Food and drinks can be brought in.
If you are not comfortable lighting the fire, our staff will do it for you.
 No clean-up is required.
You can start barbecuing at any time of the day.
 You can start barbecuing at any time of the day, but please finish by 4:00 p.m.
The area is equipped with tarps, making it comfortable even on days with light rain or strong sunlight.
<Tools>
B.B.Q. stove / B.B.Q. net / ignited charcoal / table / chairs / tongs / gloves / chopsticks / paper plates / paper hand towels
<Ingredients included>
・B.B.Q. set (meat、vegetables)、Original B.B.Q. sauce
*Local production for local consumption course
 Toyoura pork, aged Ezo sika deer meat, vegetables
*Volume Course
 Assorted beef, pork skewers, chicken, sausage, grilled vegetables
Jingiskan Course
 Lamb with sauce, vegetables
*Special Wagyu Beef Course
 Shiraoi beef, vegetables
 Toyoura SPF Pork (Toyoura Pork)
  - pork raised without antibiotics
  - High quality meat with low calories
  - High water retention capacity and flavor does not leak out.
  - White, light and juicy fat.
  - Fine and tender meat texture.
  - No hardening even when cold, and no peculiar smell of pork.
 Ezo Deer meat
  - Ezo Deer caught in Toyako Town.
  - It has no peculiarities, and even beginners are satisfied with it.
  - High in protein and low in calories, it is ideal for beauty and diet.
  - The flavor is concentrated in the matured Ezo sika deer.
Additional food items, alcoholic beverages, drinks, and café menu items (soft serve ice cream, coffee, berry-based sweets, etc.) can also be ordered.
| | | | |
| --- | --- | --- | --- |
| Course | Adult | Child | preschool child |
| Local production for local consumption course (aged Ezo-shika deer, Toyoura pork, vegetables) | ¥4,400 | ¥2,200 | Free |
| Volume course (various meats, vegetables) | ¥3,850 | ¥1,900 | Free |
| Jingiskan Course (lamb and vegetables) | ¥4,200 | ¥2,100 | Free |
---
*Please contact us for special and Wagyu beef courses.
Reservation
Registration for 2022 has closed.
Cancellation Policy
| | |
| --- | --- |
| 7 to 4 days before | 20% of fee |
| 3 to 2 days before | 50% of fee |
| 1 day ago | 80% of fee |
| very day | 100% of fee |
| no-call cancellation | 100% of fee |