*Strawberry picking will be closed this season.
 Please look forward to next season.
All-you-can-eat strawberries, a specialty of Toyoura Town!
Strawberry picking usually starts around June 10 and lasts for 2 to 3 weeks.
In 2022, it is scheduled to be open from Saturday, June 11 until around the end of June.

 If you would like to be the first to receive information about the start of reservations, please register as a friend using the official LINE link at the bottom of this page.
Natural Cultivation with Attention to Detail
We are a pick-your-own farm that focuses on natural cultivation as much as possible, taking advantage of the natural terrain without the use of plastic greenhouses.
We grow only with fermented compost and rice bran.
No chemical fertilizers or pesticides are used during the growing season.
*We have not obtained JAS certification, so we cannot label our products as organic, organic, or pesticide-free, but our cultivation methods follow JAS standards.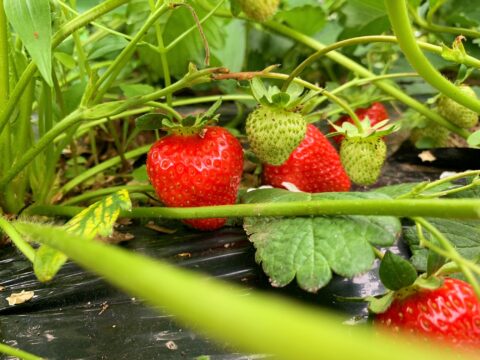 Toyoura Town, the town of strawberries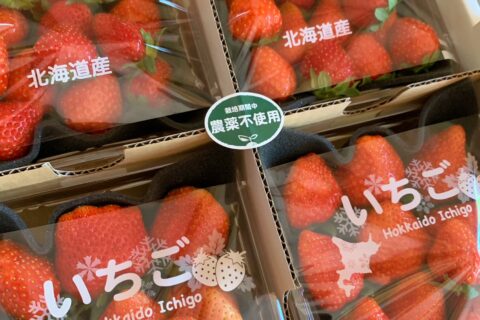 Toyoura-cho strawberries have a history of more than 80 years. "Toyoura Strawberry" is registered as a trademark and is the most traditional brand in Hokkaido. Along National Highway 37, which runs through the center of Toyoura Town, many strawberry stands line up every year, and it has become a poetic tradition from spring to early summer.
The main varieties grown in Toyoura-cho are "Kentaro," which is grown only in Hokkaido, and "Houkou Wase," which has soft and juicy berries. Berry Farm TOYOURA also grows these two varieties.
Strawberry picking fee
*Replacements will be made in 1 hour (about 50 minutes for picking) and priority will be given to those with reservations.
Reservations will be accepted from early June.
 Please register as a friend on LINE if you would like to receive information about the start of reservation acceptance as soon as possible.
Adults (4th grade elementary school students and above): 1,800 yen
1st to 3rd grade elementary school students: 1,200 yen
3-6 years old: 1,000 yen
Under 2 years old: Free
Take-out 400 yen/100g
*For elementary school students and younger, each child must be accompanied by one parent or guardian.
Children of junior high school age and older may enter the venue alone, but if they cannot follow the rules, they may be asked to leave the venue or have a parent/guardian come with them.
Strawberry Picking Reservations
予約する